​​
​​​​Building Young Leaders
​​Education Enrichment Center
​
​
3337 M Street, Merced
​behind the San Simeon
​Professional Center
(209) 723-2533​
Congratulations Young Leaders Performing Arts students on a fantastic spring production!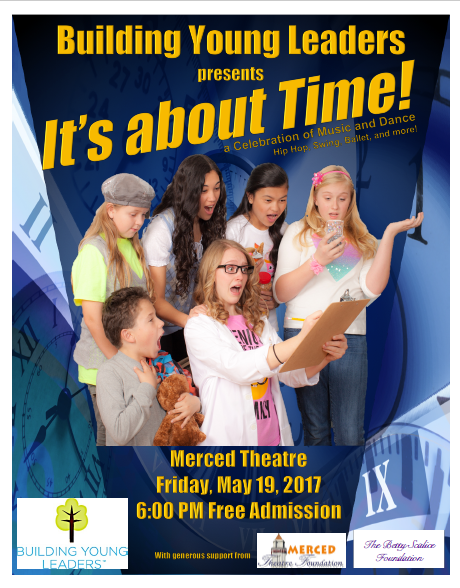 Singers Company Summer Camp for Fairies!
Brilliant Color & Chalk Festival
Radical Reptiles
Star Wars Leadership
Natures Wonders Arts & Crafts
Aerodynamic Models
Noisiest Dance Camp Ever! (Clogging, Step & Mexican Footwork)
Circuits Art & Science Connection
Day at the Beach Arts & Crafts
Beginning/Intermediate Princess Ballet Camp
Intermediate/Advanced Ballet Intensive
Singers Company 'Strong'!
Magical Cake & Cookie Decorating
Hip Hop: 'Hit dem Folks', Poppin, Break & Stomp
Babysitting Survival Skills
Magic Treehouse Book & Activity Club
Have the Best Summer Ever
at Building Young Leaders!
Check out these awesome classes and register now!
Wondering why you should be part of our BYL family?
Check out this feedback from our recent show!
"I was looking at the 'It's About Time' program, and reflecting on what fantastic shows those were, both the one for the schools and for the Friday night audience. I LOVED them!
They were SO well prepared, SO well done, SO meaningful and SO enjoyable! From the clever title to everything else, they were very amazing. I can't say enough about the high quality of the choreography, the costuming, the messages/meaning of the dances and slides, the choices of music (peanut butter and jelly, just one example!), how the videos tied the whole theme together, the venue, the cleverness of the puppets, the puppets dialogue, etc. etc. Not only the audience loved the shows, but you could tell from the smiles on the dancers faces, they loved doing it as well.
Thanks for lifting us with the beautiful art of dancing, music and great value messages. To me, it is obvious BYL has a far-reaching, positive influence on not only each of the individuals participating, but the community as a whole. Thanks! We loved it!"